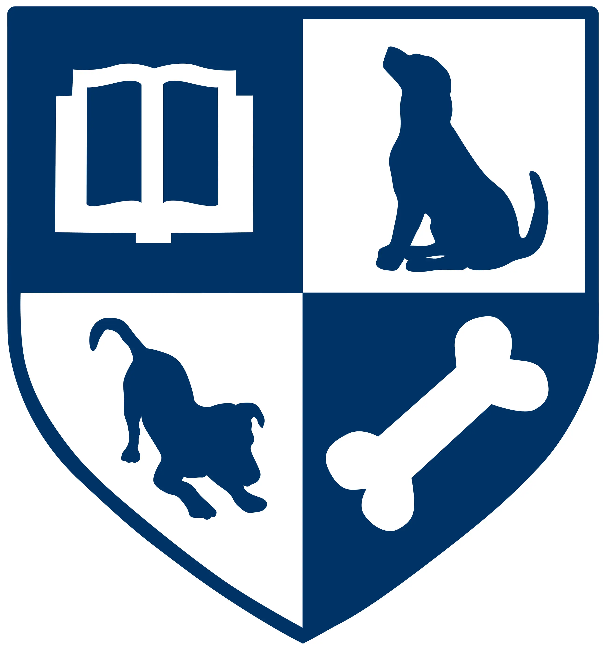 Leashless-training methods are essential for pet dogs, because they are usually off-leash indoors. Lure-reward and reward-training techniques make training quick, easy, effective, and enjoyable for dogs and their owners. Reward training is as owner-friendly as it is dog-friendly. Since reward training depend on brain rather than brawn, the techniques are easily mastered by all dog owners, including children.
Weigh out the puppy or dog's daily allotment of kibble and put it in a container for family members to use for all of these exercises. Every piece counts as an individual lure and reward. Use kibble to train throughout the course of the day.
Look
Stand beside your dog while he is sitting. Hold a treat near his nose to get his attention. Move the treat upwards to between both of your eyes. Your dog should now be gazing up at the treat, at which point say "Look". Work on how long he has to hold the 'look' before he earns the reward.
Come
For puppies, simply say "Puppy, Come," do something silly, and your puppy will come running. Praise your pup as she comes running towards you, and grab her collar and offer a food reward when she arrives. For adult dogs, say "Doggy, Come" and then squat down a waggle a food lure in front of you. Two or more family members may practice yo-yo (back and forth) or round robin recalls. Say "Puppy, go to Jamie" as a cue for Jamie to call the pup. Once Jamie has hold of the puppy's collar, it is his turn to choose who to send the puppy to. This is a great way to teach your puppy "Go to…" commands, as well as the names of family members.
Sit
Hold a food treat in front of your dog's nose, say "Sit," and move the lure upwards and backwards just above the dog's muzzle. As your dog looks up to follow the treat, she will sit down. If your dog jumps up, you are holding the treat too high. If your dog backs up, work with the dog in a corner. When she sits, say "Good girl!" (or "Good boy!" if you have a boy-pup), and offer the kibble as a reward. From now on, ask your dog to sit in front of you after every recall.
Down
Say "Down," and quickly lower the treat from the dog's nose to a point in between the dog's forepaws. Praise the dog when she lies down ("Goood girl!") and offer the treat. It is easier to entice your dog to lie down if she is already sitting, since her hindquarters are already down.
To teach your dog to lie down when she is standing, hold the lure between finger and thumb and lower the hand (palm downwards) to rest on the floor. As the dog worries at the lure, she will likely place the side of her muzzle on the floor ("Good girl!") and then assume a play-bow with elbows and sternum on the ground ("Gooood girl!"). By gently moving the lure towards the dog's chest and between her forepaws, her rear end will collapse backwards and she will lie down ("GOOOD GIRL!!!") Now step back and ask your puppy to come, sit, and lie down. An upward motion of your hand (held palm-upwards) has become the hand signal to sit, and a downward motion of your hand (held palm-downwards) has become the hand signal to lie down.
Stand
Stand is a very useful command when you want (or your veterinarian wants) to examine your dog. Say "Stand" and move the lure away from the dog's nose, waggling it in the position where your dog's nose will be when she stands. When she stands, say "Good girl" and offer the lure as a reward.
Repeat sequences of the three body positions (sit, down, and stand) in random order, e.g., sit-down-sit-stand-down-stand. Initially, praise and reward each correct response. Once your dog responds fairly reliably, only reward her quicker and snazzier responses. Have family competitions to see how many body position changes your dog will do for just one food reward.
Stay
Initially, praise and reward your dog the instant she sits, lies down, or stands. With successive trials however, continue to praise correct responses but progressively delay offering the food reward for a little longer each time: for two seconds, then three seconds, five, eight, twelve, twenty, forty, sixty, and so on. Before you know it, your dog will happily respond quickly and remain in place for several minutes.
Recall
This requires a lot of work and the sooner you start the better. Puppies in particular instinctively tend to follow their 'parent' so make use of this by moving away from the pup, and when he follows say "Come" and reward him with a treat when he gets to you. In addition, with the dog on the leash, when he looks toward you say "come" and make yourself exciting to him by slapping your thighs and sounding excited. When he runs to you, make a big fuss and give a treat.
Go To Your Bed
Getting your dog to go to their bed is useful, but if you can get your dog to go to their bed and then stay there for any length of time, then you'll really have an amazing tool to help manage your pup's behavior. Tell your pup to Go To Your Bed and then point to their bed and then use kibble to lure your pup up onto their bed. Give your pup treats for staying on their bed. Then, tell your dog "Okay" and gently take hold of their collar and then lure them off their bed with a food treat. Repeat this several times. After a few sessions, you can stop luring your pup off their bed, simply say "Okay" and touch your pup's collar to let them know they are free to get off if they'd like to. Practice the Go to Your Bed skill in a variety of places so that you can use this behavior management tool wherever you go. Start by practicing in a new room. Tell your dog to Go To Your Bed and then point to their bed and lure them onto their bed using a piece of kibble. After a few repetitions, start phasing out the food lure and see if you can get your pup onto their bed just by pointing, or moving your body towards their bed. If they get on their bed without a food lure, give them multiple food rewards to make a big impression. Don't forget to tell your dog "Okay" when the exercise is over.
Off, Take It, Thank You
Keep working on your pup's Off skills by challenging them to resist food that is on the floor, or to leave something while they are up and moving around, which is much harder than leaving something when they are in a Stay. Warm up by practicing Off and Take It with food in a closed fist, then in an open palm, before trying it on the floor. For a real challenge, try telling your pup Off when they are up and walking around. Just be ready to cover the food to prevent your pup from getting it if they go for it, you don't want them getting reinforced for making a mistake. Edible chews like bully sticks and pig's ears may be some of your pup's favorite things. Practice object exchanges with your pup using progressively more valuable objects until you get to the point where your pup will happily release even these high-value items on cue. Get two identical objects that your pup really likes, like bully sticks or pig's ears. Let them chew on one for a few seconds, while you continue to hold onto it, then say "Thank You" and present the other, identical item. When your pup releases the first object, say "Yes" and let your pup chew on the second one. Keep in mind that the longer your pup chews on an object, the more resistant they will be to releasing it. If your pup is readily realizing the objects when you say "Thank You" you can start letting go of the object and letting your pup possess it entirely for a few seconds, which will also make them more resistant to releasing it when you ask.
"Woof" and "Shush"
It is easier to teach your dog to shush when he is calm and focused. Therefore, teaching your dog to "Woof" on cue is the first step in "Shush" training, thus enabling you to teach "Shush" at your convenience, and not at inconvenient times when the dog decides to bark. Moreover, teaching "Shush" is now much easier because your dog is not barking uncontrollably—barking was your idea!
Station an accomplice outside the front door. Say "Woof" (or "Speak," or "Alert"), which is the cue for your assistant to ring the bell. Praise your dog profusely when he barks (prompted by the doorbell); maybe even bark along with your dog. After a few good woofs, say "Shush" and then waggle a tasty food treat in front of his nose. Your dog will stop barking as soon as he sniffs the treat because it is impossible to sniff and woof simultaneously. Praise your dog as he sniffs quietly, and then offer the treat.
Repeat this routine a dozen or so times and your dog will learn to anticipate the doorbell ringing whenever you ask him to speak. Eventually your dog will bark after your request but before the doorbell rings, meaning that your dog has learned to bark on command. Similarly, your dog will learn to anticipate the likelihood of sniffables following your "Shush" request. You have then taught your dog both to speak and shush on cue.
Over repeated "Woof" and "Shush" trials, progressively increase the length of required shush-time before offering a food reward—at first just two seconds, then three, then five, eight, twelve, twenty, and so on. By alternating instructions to woof and shush, the dog is praised and rewarded for barking on request and for shushing on request.
Remember, always speak softly when instructing your dog to shush, and reinforce your dog's silence with whisper-praise. The more softly you speak, the more your dog will be inclined to pay attention and listen (and therefore, not bark).
Phasing Out Food Lures and Rewards
Initially, use kibble both as lures to entice your dog to come, sit, lie down, and stand, and as rewards for doing so. Thereafter, use different items as lures and rewards. For example, lure the dog with a Kong but reward it by throwing a tennis ball. Or, lure the dog with a kibble but say "Go play!" as a reward. After a few repetitions dispense with food lures entirely—your verbal instructions and hand signals will suffice; from now on only use kibble as a reward.
Finally, dispense with training treats as rewards. Instead, ask your dog to sit and/or lie down before every enjoyable doggy activity. Have your dog sit, lie down, or stand-stay before scratching her ear, before throwing her ball, before letting her off-leash, and before inviting her to share the couch: i.e., replace food rewards with more meaningful life-rewards.
Now you will be able to ask your dog to sit for her supper in a bowl because you no longer need to use her kibble as training lures and rewards.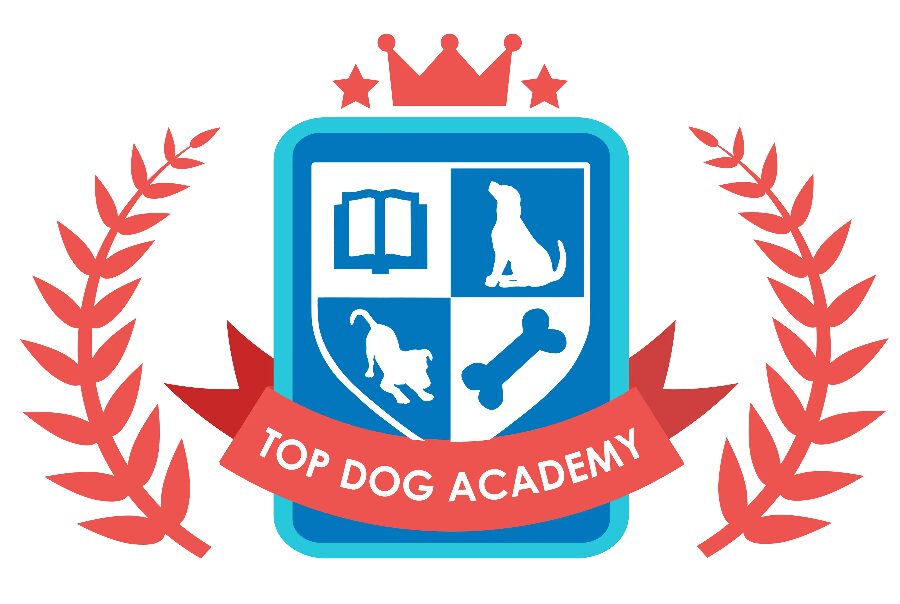 We have adopted
Top Dog Academy
as our online digital "textbook" for our clients. Please check out the many
Free Courses
, especially, the
Behavior Problem Crash Course
and
Quick Tips & Free Downloads.
Should you require more in-depth information, we strongly recommend that you subscribe to the
Top Dog Academy,
which contains 100s of hours of dog training videos, plus podcasts, ebooks, worksheet and more, all about puppy and adult dog training and preventing/resolving most common behavior, temperament and training problems.
Top Dog Academy
is only $20/month, and the first month is free with coupon code
firstmonth
. You may easily cancel your subscription at any time and there's a 30-day money-back guarantee.